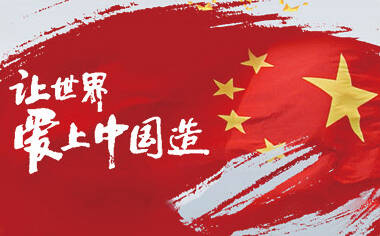 Recent events have put the Chinese people into a fury and triggered a craze of patriotism. Beneath rational boycotts, we must see that the moon in foreign countries is not necessarily rounder. To make the Chinese nation strong, we must refuse to worship foreign things and insist on Made in China.
Every day of China is fast-changing today. Made in China has been refreshing the world.
We are proud of the essential leap of China's high-speed rail within ten years. There was no high-speed rail in China before 2007. Now China has grown into the world's largest constructor of high-speed rail operating the longest mileage of high-speed rail. China is now leading the world and making essential progress in this regard.
Huawei PAD once took the bullet and saved a person's life while Samsung mobile phones have caused over thirty explosion and fire accidents worldwide due to quality defects of their batteries.
Ms. Dong Mingzhu of Gree Group said, "Those who sabotage Made in China are evildoers!" An enterprise without creativity can never become a leader or a powerhouse. Therefore, Chinese local enterprises shall always insist on Made in China.
As an unsung hero supporting the strength of a country, the manufacturing industry is inconspicuous at ordinary times but shows the true color of a hero at critical moments! Now we have Chinese brands of which we are proud, among which there are Huawei and Gree.
A distance of ninety miles is half the journey in a journey of one hundred miles. Despite all hardships these days, the Chinese people have injected great power into the Chinese brands for going global. We are convinced that more Chinese brands will shine in the world arena.
Mr. Zhang Songming of T TECH-LONG said at the NPC Guangzhou Delegation Seminar, "We should rejuvenate the Chinese nation with advanced manufacturing!" Dedicated to the research, development and production of liquid product packaging equipment since its incorporation, TECH-LONG has been establishing an image of Made in China and endeavoring to build a world-class equipment brand.
Only with a strong manufacturing industry can we get rid of technical blockade from foreign countries, manufacture advanced weaponry and resist foreign invaders! Only with a strong manufacturing industry can we stop exchanging high technology with cheap labor, and make the Chinese people fall into love with Made in China! The top priority of Made in China is to arouse the craftsmanship spirit, polish the signature brand of Made in China, and introduce more Chinese brands to the world, and realize the transformation from a big manufacturer to a strong manufacturer.
According to statistics, there had been a handful of Chinese enterprises with a history over 150 years by 2016, including, Liubiju, Zhang Xiao Quan, Chenliji, Tongrentang, Maotai, Xiefuchun, Laofengxiang, Neiliansheng and Wanglaoji.
In such a big country with a history of five thousand years, the number of century-old enterprises is so limited. We should reflect on ourselves. More importantly, we should carry forward the fine traditional Chinese culture and craftsmanship spirit and spread the contemporary Chinese cultural innovation achievements across the world. Made in China products shall surpass them technically and conquer them with craftsmanship spirit!
Can the Chinese nation come to its senses at the moment of truth? The real estate industry can not resist invasion and the entertainment industry can not advocate peace. Only the manufacturing industry can showcase the power of a country!