A Complete Guide to Tech-Long Blowing-Labeling-Filling-Capping Monobloc
Blowing-Labeling-Filling-Capping Monobloc Machine is used to pack liquid into plastic bottles, such as water and soda. It is a new concept used in the bottling package industry, and the most advanced technology for water bottle filling and soda filling. This machine efficiently integrates blow molding, labeling, filling, and capping machines in one block.
Blowing-Labeling-Filling-Capping Monobloc Machine replaces the traditional configuration of a blow molding machine plus an air conveyor and washing filling capping machine. With the innovative and efficient design, this machine saves energy and space for water and soda bottling manufacturers. Therefore, it is suitable to solve the limited space problem of water and beverage manufacturing plants.
As the rarer supplier who has the key technology of PET blower and filler, Tech-Long is the pioneer of the monobloc machine. This article will mainly introduce the Tech-Long Blowing-Labeling-Filling-Capping Monobloc Machine to you. Let's begin!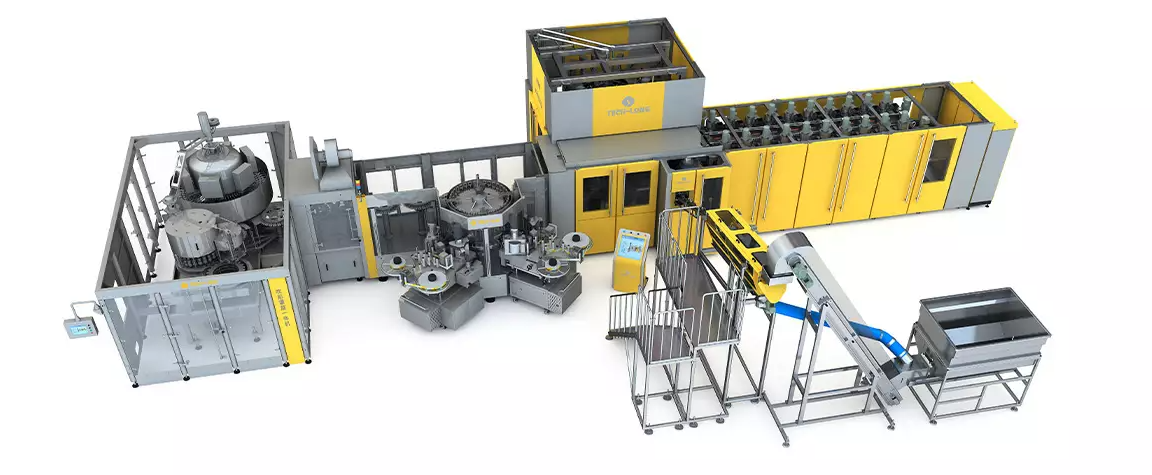 Advantages of Tech-Long Blowing-Labeling-Filling-Capping Monobloc
The capacity of Tech-Long Blowing-Labeling-Filling-Capping Monobloc is 48000BPH. Compared with the traditional production line, the Blowing-Labeling-Filling-Capping Monobloc's compact structure can save 20%~30% occupation area. In addition, the monobloc can also replace some transportation mechanisms before the labeler, such as a pressure-free conveyor, air dryer for the bottle body, etc.
On the other hand, Blowing-Labeling-Filling-Capping Monobloc has the advantages of fast speed, high accuracy, stable operation, etc. For example, the machine is equipped with a visual inspection and ejection system to detect empty bottles quickly and cap sealing effect. In addition, the filling level of this monobloc machine can make fast ejection of unqualified products. The following are the other advantages of Tech-Long Blowing-Labeling-Filling-Capping Monobloc:
Generalization: Compatible with various bottle sizes;
High-speed: Quick change-over of bottle size parts;
MES intelligent management system: With multiple functions such as control, maintenance, management, etc;
Fewer operators: Optimized personnel distribution, from 3 operators on conventional equipment to 1 operator on this all-in-one machine;
Bottle protection: Transfer by bottle grabber to better protect the bottle body;
High production efficiency: The efficiency of the whole equipment exceeds 98%
Excellent energy-saving and consumption-reducing ability: Save 40%~55% of high-pressure air and 25%~35% of electricity;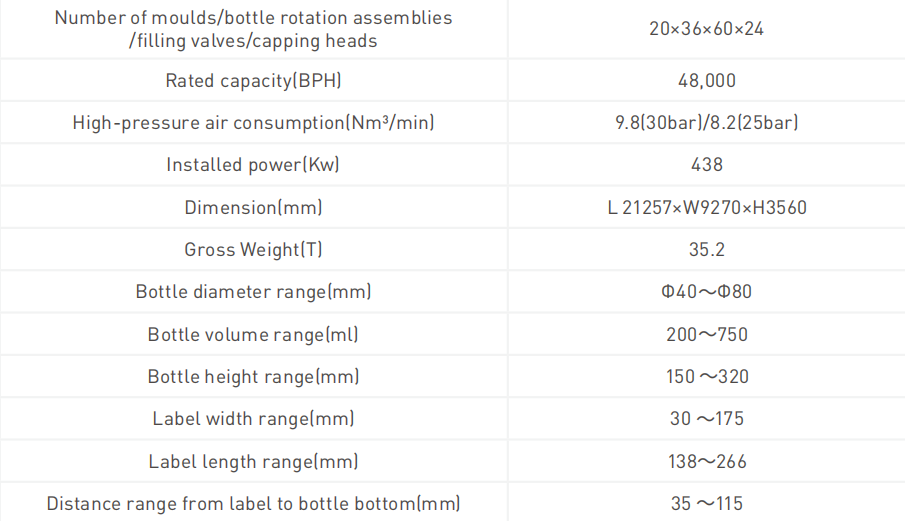 (Technical data of Tech-Long Blowing-Labeling-Filling-Capping Monobloc)
Features of Tech-Long Blowing-Labeling-Filling-Capping Monobloc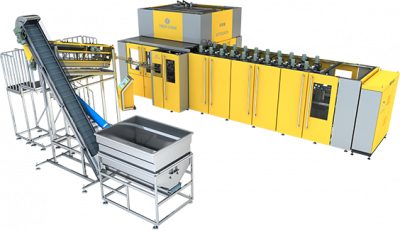 The structure of servo stretching and mechanical seal realizes the flexible adjustment of relevant parameters, as well as the maximum processing angle.
The bottom mold is interlocked with the mold opening and closing mechanism, reducing shock and vibration.
The blowing technology of 6 blowing units reduces the high-pressure air consumption by 40%~55%.
Quickly change neck and body size parts to fit various sizes of bottles better.
The high-speed heating and air circulation system is energy-efficient, saving more than 40% of energy consumption.
Main features of label design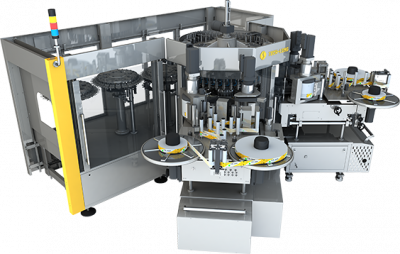 The modular design of the labeling station and multi-station distribution can meet the requirements of hot-melt glue and self-adhesive labeling at the same time.
The system can automatically detect label roll usage. When usage reaches the preset parameters, the labeler will slow down but not stop the automatic roll change.
Each relevant part of the system is equipped with independent servo drives to improve transfer accuracy and labeling efficiency, and reduce vibration and noise levels.
Main features of filling and capping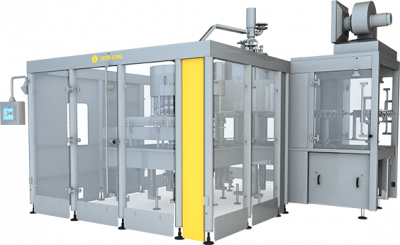 Double layers of explosion-proof toughened glass are fixed on a floor-stand enclosed frame, enabling this machine to be well guarded, having a beautiful appearance, and preventing atomization.
The inclined basement design obtains the best drainage capability, which is more sanitary.
The volumetric filling method via flow meters is economical and durable.
The filling product is easy to change, and there is no return processto ensure energy-saving and hygiene.
A fully automatic closed-cycle CIP system realizes high efficiency and optimum hygienic performance.
Optimized and flexible track for capping cam can assure stability during high-speed rotation.
Why choose Tech-Long
Tech-Long is a high-tech packaging machine automation manufacturer with excellent R&D capabilities. We have the only national R&D center in the industry and the only company with military and shipbuilding capabilities in the industry.
In addition, Tech-Long produces products suitable for the entire manufacturing industry and has built a service network covering 80 countries and regions worldwide.
Our smart packaging technology enables us to produce high-quality smart packaging systems. Contact us!
Related articles:
A Complete HMI Operation Guide to Tech-Long Filling Machine
Industry Insights: Label-Free Packaging Trends in 2022
PET Bottle Blowing Machine: PET bottles vs. Glass and Cans Benefits