TECH-LONG, the largest beverage packaging machine manufacturer in Asia, offers customers comprehensive automated production solutions. As a high-tech packing machine automated manufacturer with excellent R&D capability, we provide a solid foundation for product quality and contentiously invests in digital and automatic processing equipment. Among the products of TECH-LONG, Blowing-Labelling-Filling-Capping (BLFC) Monoblock Machine has got more attention.
What is BLFC Monoblock Machine?
Blowing-Labelling-Filling-Capping Monoblock Machine is a beverage filling machine, which is one of TECH-LONG's most popular products. BLFC Monoblock Machine efficiently integrates blow molding, labelling, filling, and capping machines in one block, which is an advanced technology for water bottle filling and soda filling.
Advantages of Beverage Filling Machine
High capacity comes up to 48000BPH.
Save 20%-30% occupation area.
Only one operator required.
Compatible with different bottles sizes.
Better protect the bottle with a bottle gripper.
With an MES intelligent management system.
Equipped with visual inspection and ejection system.
Reduce the energy consumption of packaging.
Beverage Filling Machine's professional design
Unlike the ordinary bottle packing machines, this water bottle packing machine has a professional and unique design, helping enterprises better carry out packaging.
Blower main features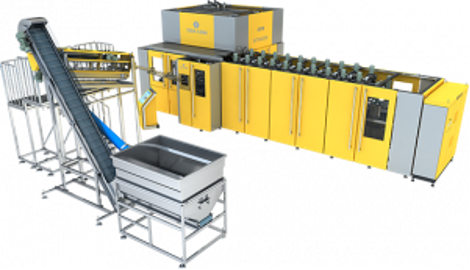 This beverage filling machine can realize the flexible adjustment of relative parameters and maximum processing angle. Its base mold is interlocked with the mold opening and closing mechanism, allowing BLFC Monoblock Machine to reduce strike and vibration. This beverage filling machine has excellent blowing technology with 6 blowing units to reduce the high-pressure air consumption by 40%-55%. Moreover, this bottle packing machine has a quick changeover of neck finish and bottle body size parts to fit bottles of various formats. These blower main features can help BLFC Monoblock Machine better work to help enterprises reduce energy consumption and create greater profits.
Labelling design features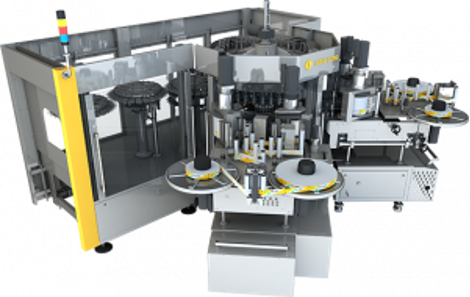 This beverage filling machine has a modular design for labelling stations and multiple-station allocation, making the beverage filling machine meets the requirements for hot-melt glue and self-adhesive labelling at the same machine. So the system can automatically detect usage situations on label roll, which greatly improves the production efficiency of water bottle packing machines. Besides, each associated part of the beverage filling machine's system has been equipped with an independent servo drive to improve transmission accuracy and labelling efficiency.
In addition to the necessary process, beverage packaging also requires high labelling efficiency. Whether it is manual packaging or an ordinary water bottle packing machine, there may be mistakes and omissions in labelling. However, the BLFC Monoblock Machine can achieve accurate labelling, thereby saving time, effort, and money.
Filling-Capping features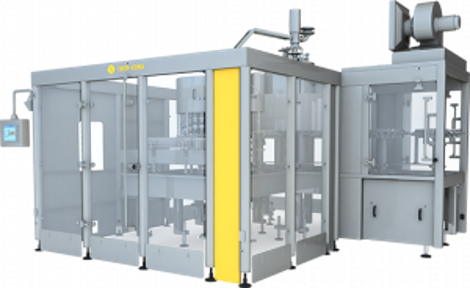 This beverage filling machine adopts double-layer explosion-proof toughened glass, which is fixed on a floor-stand enclosed frame. The beverage filling machine is well guarded, has a beautiful appearance, and prevented against atomization. Also, this water bottle packing machine has an inclined basement design to obtain the best drainage capability.
Hygiene is a basic requirement in the beverage packaging process. There may be sanitary hazards during manual packaging or ordinary bottle packing machines. BLFC Monoblock Machine can provide a hygienic packaging process. We believe that this beverage filling machine's excellent packaging technology can bring more benefits to the company. Besides, the optimized and flexible track of this water bottle packing machine for capping can assure stability during high-speed rotation.
As a professional beverage packing machine supplier, TECH-LONG familiarizes itself with every industrial production process. We are committed to providing the company with professional bottle packing machines to make the packaging process accurate, efficient, and hygienic. Now that the serious situation of COVID-19 is continuing, the BLFC Monoblock Machine can help companies reduce the workforce used in the beverage packaging process to reduce direct contact with people. Besides, the beverage filling machine's Filling-Capping features make the packaging process more hygienic, enabling companies to avoid business interruption. All in all, the BLFC Monoblock Machine will be the best choice for beverage packing!