6.0 Automatic Blow Molding Machine: The Future of PET Bottle Packaging
With the recent advancement of technology and production scale, PET blowing machines are becoming increasingly automated and efficient. Equipment production capacity follows today's trend getting faster and more precise. The operation has also evolved from manual units to fully automated installations, which reduces the difficulty of the operation and increases its stability.
Overall, PET blow molding machines present a scalable investment opportunity for manufacturers to manage the packaging process. Such solutions are adopted in many industries, from food and beverage to pharmaceutical.
In this article, we'll discuss new-generation bottle-blowing machine operations. In particular, we will introduce you to our newly developed automatic blow molding machine. Keep reading to know the features and advantages of this machinery.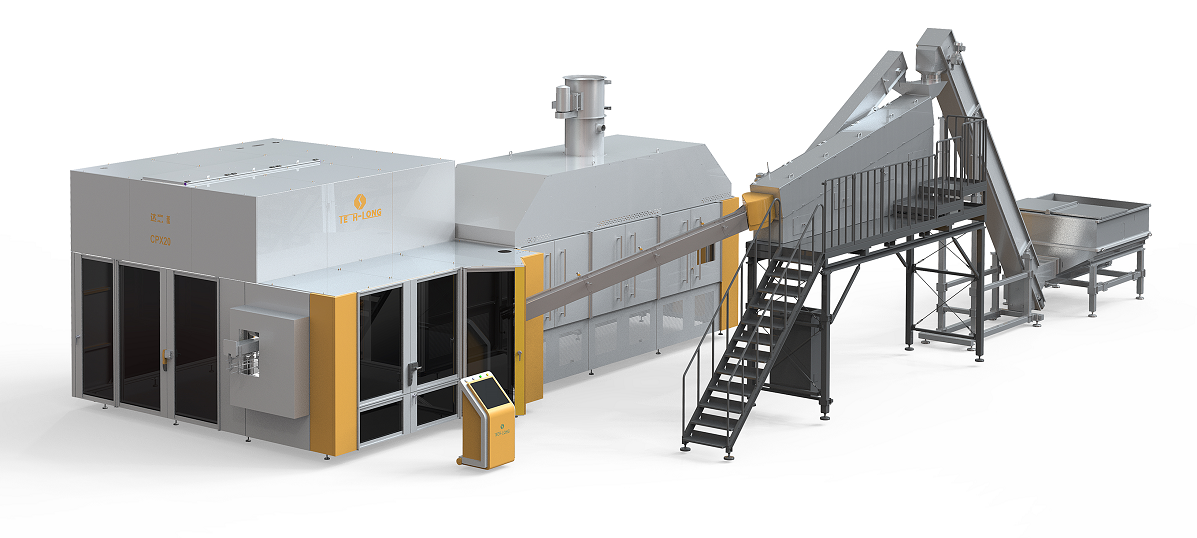 Introduction to Bottle Blowing Machine Operations
PET blow molding machines are used to fabric PET containers for water, CSD, juices, sports drinks, dairy products, household products. PET blow molding bottles can be divided into two sub-categories. The first one is a "pressure bottle," such as a bottle filled with a carbonated beverage. The second is a "pressureless bottle," such as a bottle filled with water, tea, edible oil, etc.
The equipment can satisfy various demands of different bottle sizes and shapes. (PET round, square, handle-carried containers, etc…)
New generations installations see two main options: a fully auto PET blow molding machine and a semi-auto PET blow molding machine. Tech-long blow molding system is fully automatized, and machinery setups can be further customized as follow:
Stand-alone operation
Block arrangement of Blower, Filler, and Capper
Block arrangement of Blower, Labeler, Filler, and Capper
Tech-long 6.0 Automatic Blow Molding Machine Advantages
High Speed and Stability
Tech-long PET blow-molding machine can produce a variety of bottles and containers of up to 20L capacity. The operational efficiency of the equipment ranges from 1000 BPH – 95200 BPH. We have 34 different configurations of mold cavities that can be used together or individually according to your needs. At the same time, the machine is equipped with an automatic lubrication system, reducing wear on the mold and increasing its lifespan.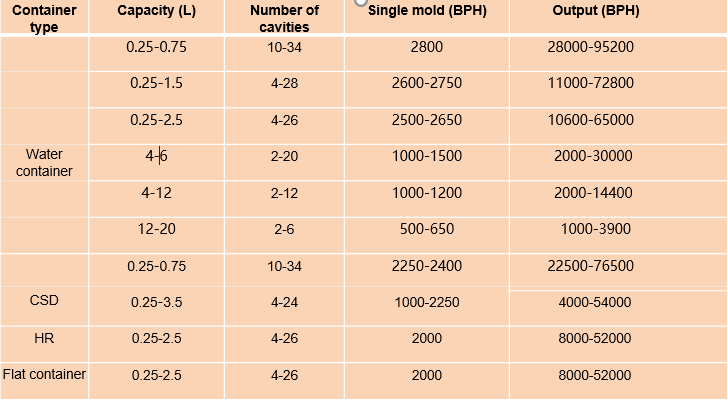 Significant Energy Conservation and Loss Reduction
Saving energy means more money in the company's pockets and less environmental impact. Compared with other traditional machines, Tech-long new blow molding technology can reduce electricity consumption by 30-40%. In addition, the high-pressure air consumption is decreased by 45-55%, thanks to the secondary recovery process.
Optimization of Parts
Tech-long has invested in developing and optimizing the automatic blow molding machine, resulting in a significant improvement compared with its traditional counterpart.
Blow Wheel
The blow wheel has seen improvements to the maximum process angle and response. This enhancement was possible thanks to the servo stretch. Besides, the drive system has also been optimized for low noise emission during high-speed operations.
Oven
The enclosed oven is one of the key parts of the blow molding machine. The heat transfer is reduced, resulting in a decrease in deformation. Another change was replacing traditional water cooling with an air cooling system to remove condensation. The result is a higher quality of the end product (especially in the bottle neck finishes)
Un-scramble
The fully-enclosed preform allows ultra-clean un-scrambling and UV sterilization on neck finishes. Quick distance adjustment is carried out between roller and slide to suit various neck finishes.
Control System
Last but not least, we have a fully automated control system. The servo motor provides for quick response and strong vibration resistance. In addition, temperatures are accurately kept under check through the closed-loop temperature control system.
Tailor-Made Service
Nowadays, having a great product is not enough. That's why we have coupled our solutions with high-quality pre-sales service. We provide a wide range of services, including setup customization, bottle design, analysis, experiments, and inspections.
Conclusion
Tech-long has 19 years of development and continuous technical innovation that culminates in the manufacturing of the 6th-generation blow molders.
Our solutions reflect our core values and assure product sterilization, standardization, and modularization. At Tech-long, we provide a tailor-made and highly-efficient one-stop solution for your business.
Contact us to know more about how automatic blow molding machines can enhance your business.