In April 2022, the results of the 23rd China Patent Awards were announced. TECH-LONG stood out and won the 23rd China Patent Award with its invention patent - "A Quick Changing Mechanism for Blow Blowing Machine Molds" (Patent No.: 2016105074142) China Patent Excellence Award. This is not only a high recognition of TECH-LONG's R&D and technological innovation capabilities, but also reflects TECH-LONG's long-standing innovative spirit of independent research and development.
The 23rd China Patent Excellence Award
Pre-awarded projects (792 projects)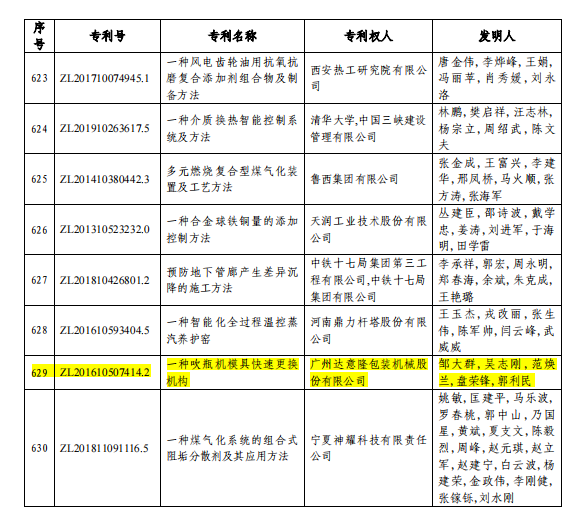 The China Patent Award was established in 1989 and is the only national award given to authorized patents in China. It is highly recognized by the United Nations World Intellectual Property Organization (WIPO) and has a certain international influence.
The award-winning patent "A Quick Mold Changing Mechanism for Blow Blowing Machines" is a core technology independently developed by TECH-LONG. This patent belongs to the core patent of the company's key product, the fully automatic rotary PET bottle blowing machine. Its RJM and CPXX models have won the National Key New Product honorary title.
The emergence of this patented technology has greatly improved the mold replacement speed of the bottle-blowing machine. At the same time, it has also broken the bottleneck of the existing technology that requires manual disassembly and assembly of screws to replace the mold. It has greatly shortened the standby time for mold replacement and significantly improved efficiency of the blow molding and the overall production. The simple replacement operation reduces the labor intensity, and safety hazards have been lessened while labor costs have been significantly reduced. Moreover, valuable energy-saving and emission-reducing benefits have been achieved.
Since its establishment in 1998, TECH-LONG has developed into a leading enterprise in China's beverage packaging machinery industry and enjoys a reputation at home and abroad.
As of now, TECH-LONG has 702 valid authorized patents, of which 8 invention patents have won the "China Patent Excellence Award", 1 invention patent has won the "Guangdong Province Patent Gold Award", and 1 invention patent has won the "Guangdong Province Patent Excellence Award".
Several new products and new technologies have been recognized as national key new products; and it is a national intellectual property demonstration enterprise, a leading packaging enterprise in China, a leading drafting unit of national standards, a national high-tech enterprise, an innovative enterprise in Guangdong Province, and a strategic emerging industry in Guangdong Province. As a key enterprise and a famous export brand enterprise in Guangdong Province, TECH-LONG has a national-level engineering technology R&D platform, including postdoctoral research workstations, nationally recognized enterprise technology centers, national and local joint engineering research centers, China Light Industry Key Laboratory of Liquid Packaging Equipment and other important platforms.
In the future, TECH-LONG will continue to enhance its own technology research and development capabilities, adhere to independent innovation, actively explore the transformation of "industry-university-research-application" collaborative innovation results, vigorously implement the innovation-driven development strategy, enhance the company's strength and competitiveness through technological innovation, and help build a strong country with intellectual property rights.