The predecessor of NAIS was the local state-owned Lishui Wuqi Chemical Factory established in 1968, and the group was established in 2001. Lishui, where the headquarters is located, is an important germination place for the General Secretary's "Two Mountains" concept. Naais leverages its unique regional advantages and strong industry leadership and is committed to building a global full-chain ecological industry system. It is the first company in the daily chemical industry to pass China's green product certification and has become the only special topic in the daily chemical industry of the Ministry of Industry and Information Technology.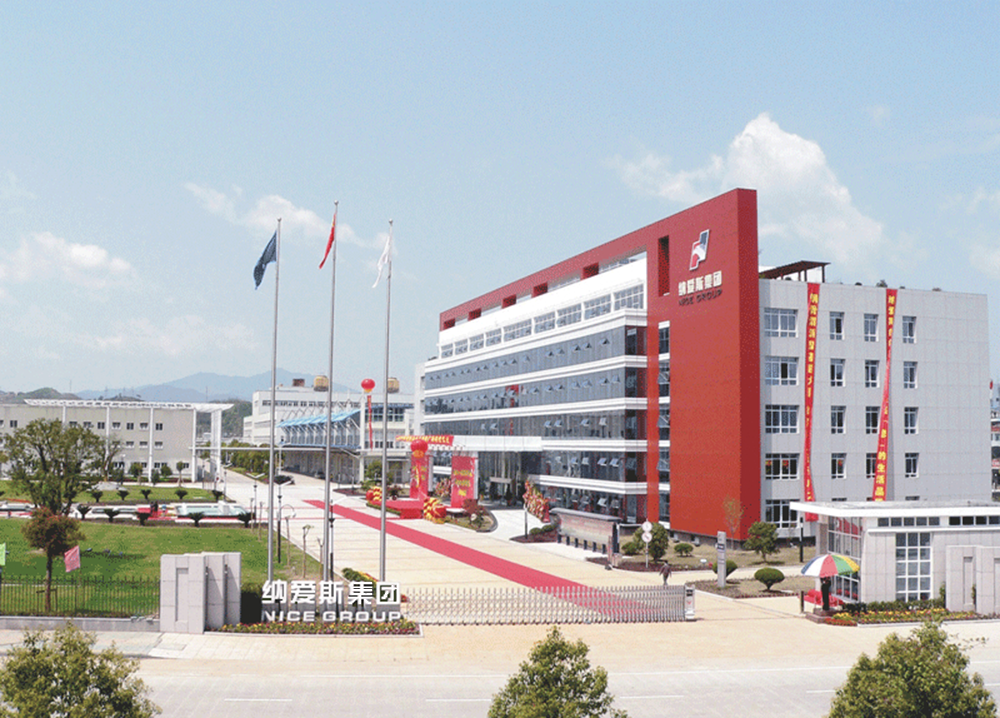 Based on traditional processes and equipment, most traditional daily chemical product packaging containers use HDPE materials and one-step bottle production. During the cooperation with NAIS, TECH-LONG discovered that there are some problems in HDPE bottle making: there are many types of equipment with low output and high energy consumption. Bottle blowing molds are costly, and altering the bottle shape is challenging. Bottles require significant time for shaping and curing after blowing, resulting in storage space consumption and packaging material wastage. Additionally, there are health risks associated with the storage process.
As a leading company that has been deeply involved in Liquid Packaging Machine Manufacturers for many years, TECH-LONG continues to pay attention to market orientation and customer needs. Given the above situation, it recommended to NAIS a complete line production of PET bottles with lower cost, higher efficiency, and significant energy saving and consumption reduction. It also provided detailed data analysis and research information, and finally won the approval of NAIS and adopted the PET complete line solution of TECH-LONG's high-efficiency blow molding machine CPXF6/2-2.5L/7800-9000BPH to produce detergent. It was put into use in Lishui, Zhejiang Province.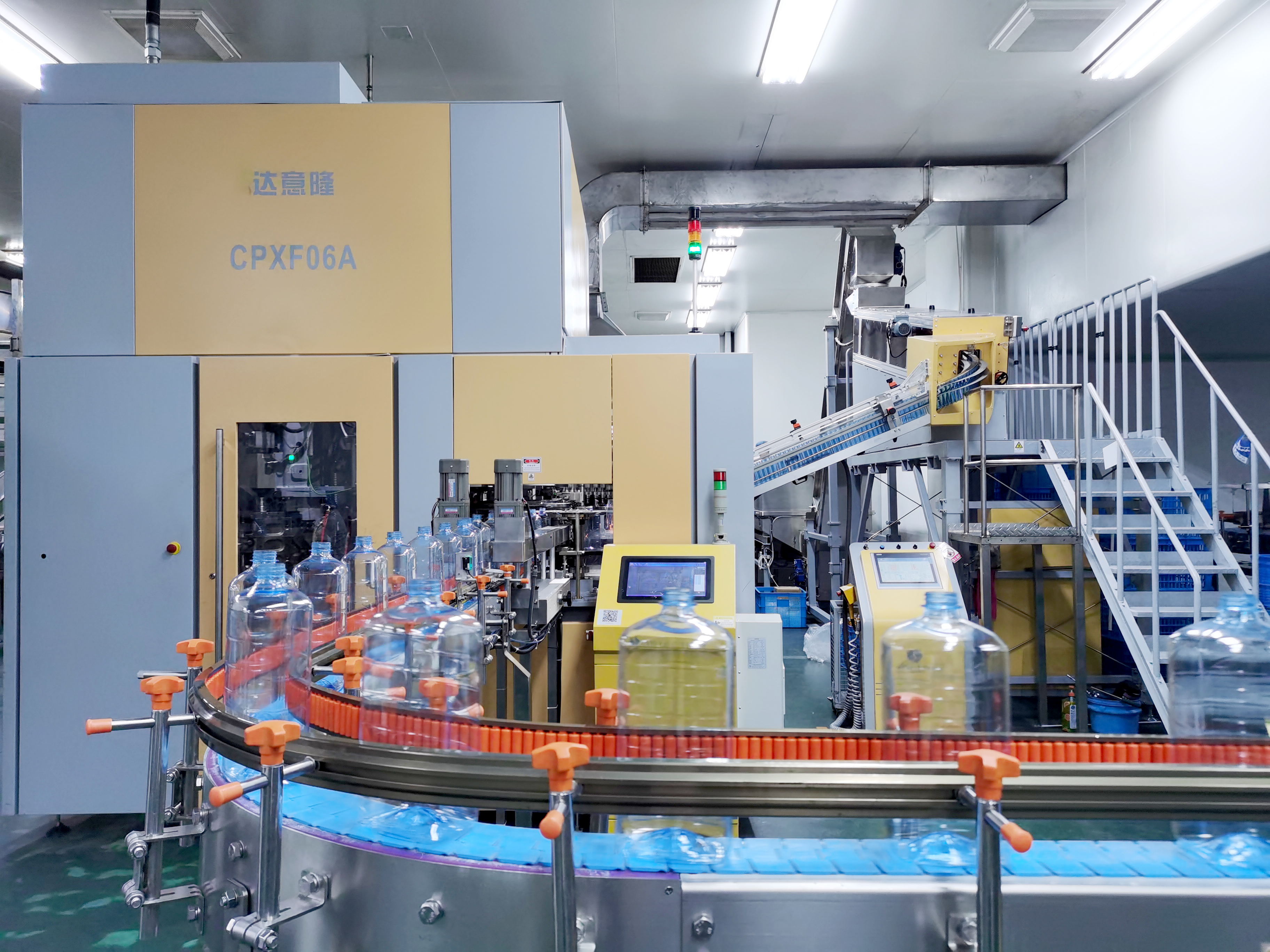 Lishui Naaisi Line 3 project is the first blowing and filling line project in the domestic daily chemical industry. It is the first PET bottle in the daily chemical industry and a new milestone in the development of the industry! The project will be launched in July 2021 and will be accepted on February 21, 2022. During the implementation of the project, we faced many challenges: thick preforms, no anti-theft rings, many colors, no reinforcement ribs, short cooling time, small workshop space, high-efficiency requirements for the entire line, and short production changeover time for the entire line equipment. All departments of TECH-LONG have overcome these difficulties one by one, and the operation of the production line and engineering services have been recognized and appreciated by customers, who presented TECH-LONG with a banner to express their approval.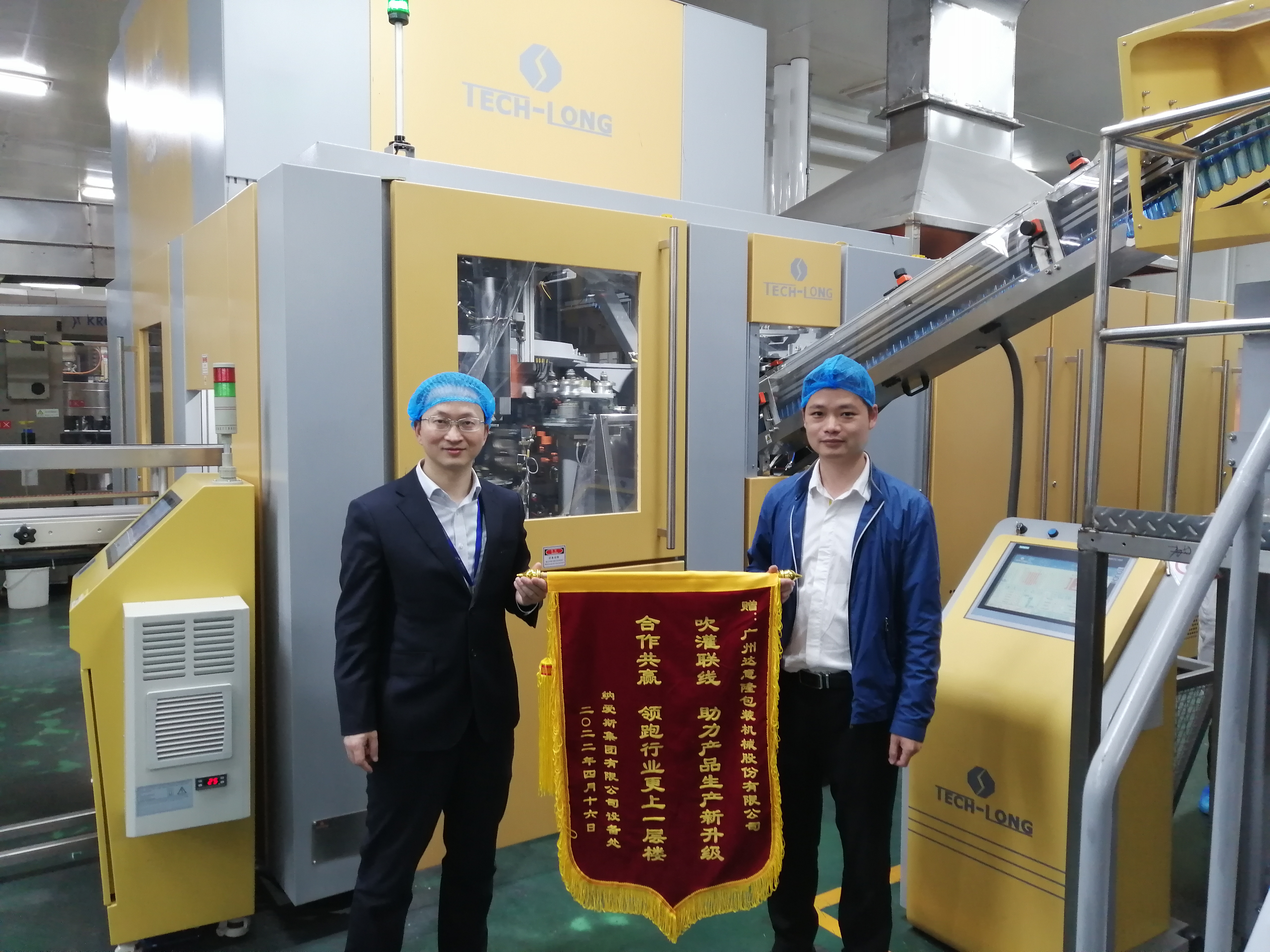 There are differences in the production processes of daily chemical products and beverage packaging. The required square bottle design is heavy with diverse and irregular bottle body and cap. Compared with the round bottle type in the beverage industry, it puts forward higher requirements for the bottle-blowing process. In terms of mold replacement of beverage, the mold required is small and the mold base is light. While the mold for daily chemical products is large and inconvenient to replace. To this end, TECH-LONG has adopted mold quick-change technology to speed up mold replacement and reduce manual labor intensity. As for the product characteristics, daily chemical products are high-viscosity, easy-to-foam, and may cause foaming and stringing during filling, dripping, and other phenomena. In response to these technical difficulties, TECH-LONG team actively tackled key problems and developed several patented technologies to effectively solve these problems. The equipment is also highly intelligent and equipped with bottle jam protection and bottle shortage alarms, cover shortage alarms, overload shutdown, and other automatic control technologies. In addition, the MES system can achieve transparent production on the production line through the combination of information systems and production automation.
Naais always pursues the ideological realm and character that the best is like water, and true water has no fragrance, practices the scientific development concept and the corporate purpose of "only to improve your quality of life", and realizes the ambition of benefiting the country and the people, optimizing the environment, and building a better world! The main series of dish soaps owned by Nais are Super and Diaopai. Chaoneng adheres to the development concept of "green, smart, fashionable and environmentally friendly" and selects green raw materials that are healthy for the human body and friendly to the environment. Diaopai's mission is to "protect families' cleanliness and health" and has strong cleaning effects.
The first cooperation between TECH-LONG and NAIS began in early 2000. After 20+ years of development, both parties have achieved remarkable results in their respective fields, and there are technical exchanges and business contacts almost every year. This time, NAIS chose to order a PET complete line to produce dishwashing liquid, which fully proves the high trust and recognition of TECH-LONG. It also proves that after decades of development, TECH-LONG has always put customer interests first. The two companies, which share the same innovative and enterprising spirit, will forge a closer cooperative relationship and jointly plan a blueprint for development. In the future, TECH-LONG will continue to improve its own strength and service quality, better cooperate with customers based on existing cooperation, and create greater value for customers!