Recently, the Guangdong Provincial Department of Industry and Information Technology announced the list of the seventh batch of national-level manufacturing individual champion companies. As the earliest company in China engaged in the research and development of Liquid Packaging Machine, TECH-LONG has been deeply involved in the field of intelligent packaging machinery for 24 years. With its advantages in intelligent equipment research and development, digital transformation, integration of information technology, and manufacturing, it has been selected as a national-level manufacturing individual champion demonstration enterprise.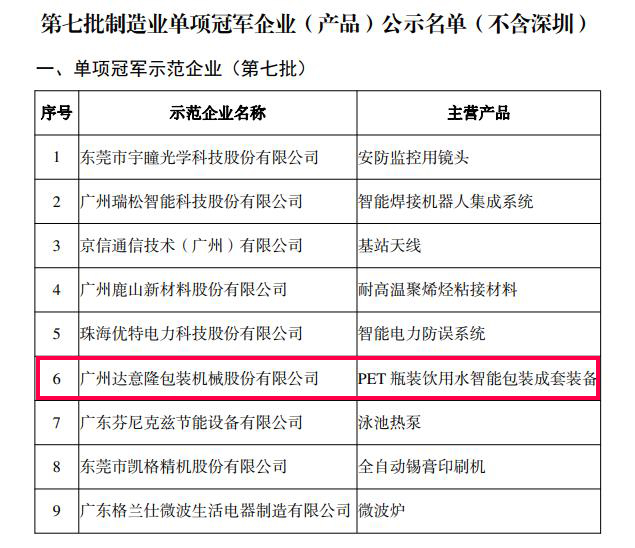 Individual champion companies in manufacturing are companies that specialize in specific product segments, possess cutting-edge production technologies, and dominate the global market share for a single product. The "single champion" in the manufacturing industry represents the highest development level and strongest market strength of the global segmented industry.
Since its development, TECH-LONG has developed fully automatic high-speed PET bottle-blowing machines, PET bottle filling production lines and secondary packaging equipment as its leading products, covering pre-processing, injection molding, blowing, filling, labeling and secondary packaging. As one of the few comprehensive suppliers in the world with complete liquid packaging line solution, TECH-LONG offers complete product chains and fully integrating equipment production line information software. Especially in the field of drinking water, TECH-LONG has become an internationally leading supplier of complete equipment.
Being recognized as a national-level manufacturing individual champion demonstration enterprise this time is an affirmation of TECH-LONG's technological innovation, industry status, brand value and overall strength of the company. We will take this opportunity to work hard with technological innovation as the driving force and use intelligent manufacturing as a breakthrough point to improve the core competitiveness of the enterprise. Moreover, we will leverage our industry-leading role to further advance the high-quality development of the manufacturing sector.