On the afternoon of April 8, Sun Zhiyang, Vice Governor of Guangdong Province, and his delegation met with Zhuang Lecong, the second-level inspector of the Provincial Department of Industry and Information Technology, Zhan Ruolan, the second-level inspector of the Provincial Department of Industry and Information Technology, Gao Yuyue, deputy secretary-general of the Guangzhou Municipal Government, Accompanied by leaders such as Chang Jiang Zhitao of the Guangzhou Municipal Bureau of Industry and Information Technology, Mao Songbai, Member of the Standing Committee of the Huangpu District Committee and Executive Deputy District Governor, they visited Guangzhou TECH-LONG Packaging Machinery Co., Ltd. to focus on the development and implementation of innovative achievements of intelligent robots and high-end intelligent equipment enterprises company (hereinafter referred to as "TECH-LONG") conducted an inspection and survey.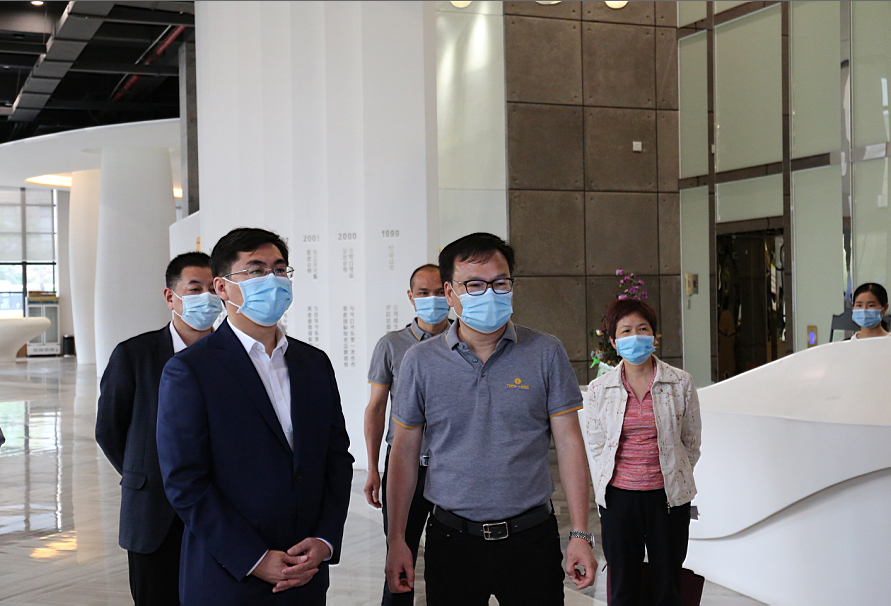 At TECH-LONG's Remote Operation and Maintenance Service Center, Chairman Zhang Songming reported in detail to Vice Governor Sun Zhiyang the achievements and market applications of TECH-LONG in the R&D of intelligent equipment, digital transformation, and the integration of information technology and manufacturing. As the earliest enterprise in China engaged in the research and development of beverage packaging equipment, TECH-LONG has developed a complete series of products for liquid product packaging through long-term independent research and development and continuous accumulation. In recent years, equipment and information technology have been continuously integrated, giving liquid product packaging equipment features such as intelligence, flexibility, high speed, and energy saving, which meets the needs of downstream beverage, dairy, daily chemical, and other industries to improve quality, efficiency, and high-quality development. At the same time, TECH-LONG targets food, beverage, daily chemicals, toys, and other industries, deeply explores industry needs, and uses industrial robot technology to solve pain points and difficult technical problems in industries such as intelligent assembly, intelligent sorting, and intelligent boxing, and contributes to industry value creation.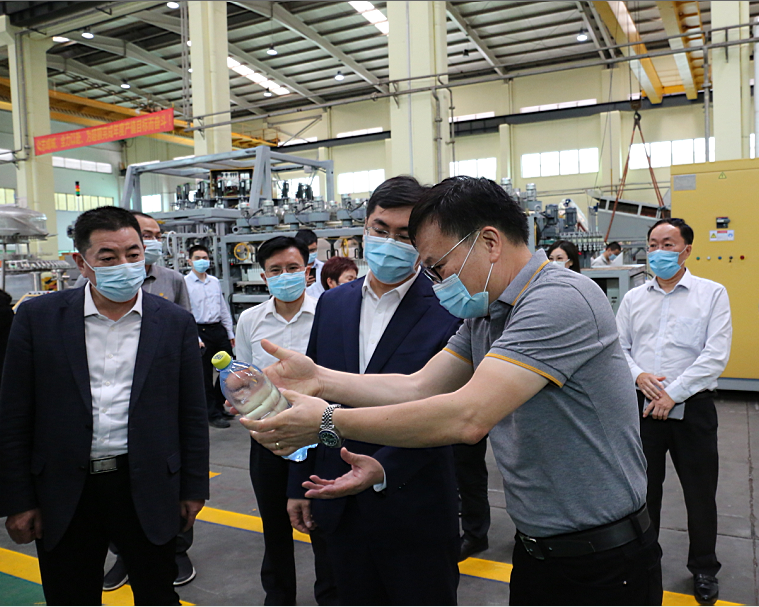 Later, Chairman Zhang Songming accompanied Vice Governor Sun Zhiyang and his delegation to visit the production workshop, and observed the live demonstration of TECH-LONG's core products, high-speed fully automatic PET bottle blowing, filling and capping integrated equipment and the sixth generation fully automatic PET bottle blowing machine, and focused on the introduction of a number of innovative achievements, represented by PET bottle blowing, pasting, filling and capping integrated equipment, have been developed that can reach the international advanced level. Among them, the fully automatic PET bottle blowing, filling and capping integrated equipment has a maximum production capacity of 80,000 bottles/hour. It is domestically leading and internationally advanced in key technologies and performances such as heating accuracy, servo stretching, precision filling, and overall machine efficiency. The single-mold production capacity of the sixth-generation fully automatic PET bottle blowing machine has reached the international advanced level. The whole machine has significant features such as intelligence, high efficiency, energy saving, and reliability, and has fully realized import substitution. PET bottle blowing, pasting, filling and capping integrated equipment has been industrialized and sold in batches. It is exported to Canada, Oman and other countries, with a maximum production capacity of 48,000 bottles/hour with the aim to fill the domestic gap.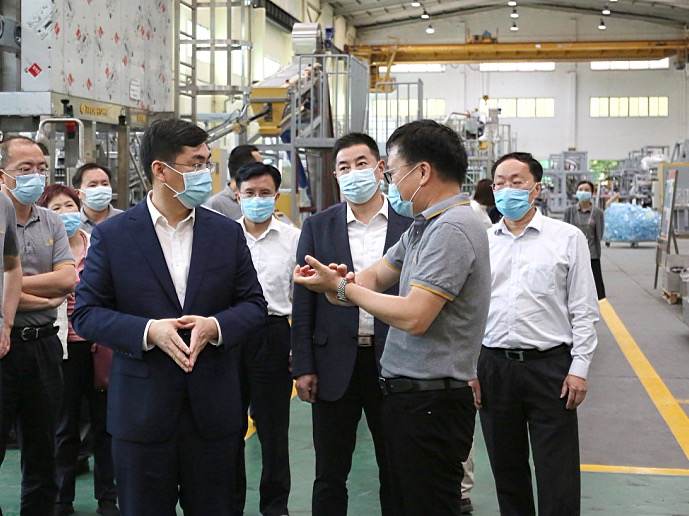 After listening to the report and on-site inspection, Vice Governor Sun Zhiyang highly affirmed TECH-LONG's innovative achievements in the liquid product packaging equipment segment industry and hoped that the company would continue to increase innovation efforts and continue to promote the in-depth integration of manufacturing and information technology, especially new technologies such as 5G, big data, and artificial intelligence to explore new growth drivers and paths, help the high-quality development of downstream industries such as beverages, daily chemicals, and dairy products, and benefit the company's research and development results to more manufacturing companies to achieve collaborative development of the entire industrial cluster.
As China's leading supplier of liquid product packaging equipment system solutions, TECH-LONG has formed a complete range of liquid product packaging covering pre-processing, injection molding, blow molding, filling, blow-fill-cap, conveying, labeling and secondary packaging. product chain, and has accumulated several integrated application demonstration projects based on industrial robots. Since its establishment, TECH-LONG has always led the technological development of the industry and has long-term cooperation with well-known domestic and foreign brands such as Nongfu Spring, Jinmailang, C'estbon, Yihai Cereals and Oils, Wahaha, Procter & Gamble, and Coca-Cola.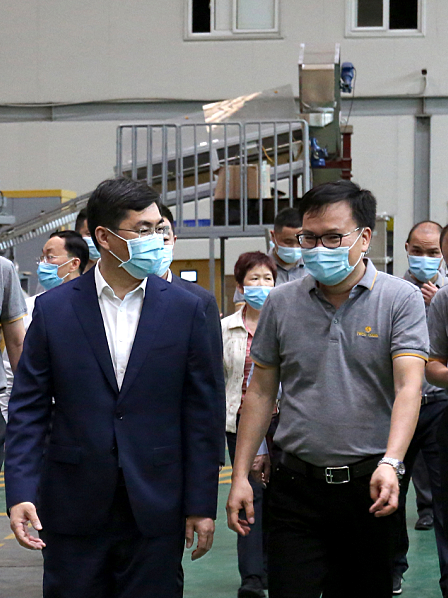 TTECH-LONG attaches great importance to independent innovation and intellectual property protection, we have obtained more than 660 valid authorized patents, and have won the China Patent Excellence Award 7 times. As national intellectual property demonstration enterprise, TECH-LONG actively participates in the drafting of international, national, and industry standards to promote the orderly and standardized development of the industry.
In recent years, TECH-LONG has increased its efforts in informatization construction and continued to enhance its core competitiveness through intelligent and digital transformation. In terms of core industrial software, we have independently developed industrial software including production management, equipment management, quality traceability, energy consumption management, etc., which can provide comprehensive software and hardware integrated solutions to downstream enterprises. As for after-sales operation and maintenance, based on 5G, artificial intelligence, big data and other new generation information technologies, we provide customized services such as production line monitoring, fault warning, equipment health management, and accessories ordering. Through the integrated application of equipment + new-generation information technology, customers' needs for convenient and fast services are met, and the collaborative and efficient development of industry chain enterprises is achieved.
In the future, TECH-LONG will continue to adhere to independent innovation, continuously increase investment in R&D and innovation, achieve digital transformation and high-quality development of the enterprise, and make steady progress towards becoming the world's leading provider of comprehensive solutions for liquid product packaging.