Introduction to the BLFC Monoblock Machine for Water and Soda Filling
Filling equipment comes in many varieties and customizable setups. Generally speaking, manufacturers will consider mainly two factors when deciding which machinery to implement in their factory.
The first aspect is related to the level of automation required to meet production demands. In addition, the second factor is the equipment layout with the relative return of investment.
What would you do if I told you that at Tech-Long, we had developed an all-in-one solution for the blowing, labeling, filling, and capping process?
In this article, we will introduce you to our BLFC Monoblock Machine for water and soda filling. We will mainly focus on the equipment feature and the benefits that it can bring to your business.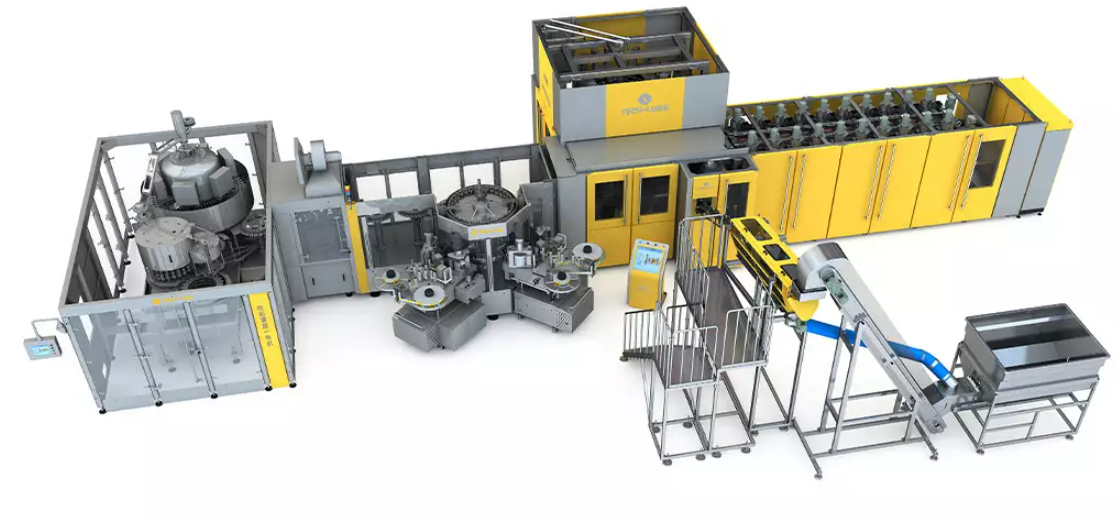 Tech-Long Revolution – BLFC Monoblock Machine
The monobloc packing equipment combines two or more major functions in a single machine. Following years of development, our team of engineers provided a completely new solution both for medium and large businesses. Our BLFC monoblock machine copes with industry-high standard requirements by integrating blow molding, labeling, filling, and capping machines all in one.
The installation can produce roughly 48000 to 68000 BPH and can carry out autonomously the whole packaging process. Manufacturers can produce both water bottles and soda fillings.
BLFC Monoblock Machine – Overview
Blower
Our blowing technology comprises six blowing units, which reduce the consumption of high-pressure air by 40% -50%. The blower has a sealed mechanical structure that allows for the maximum processing angle.
The blowing unit is equipped with high-speed heating and air circulation system. This system allows an energy consumption saving of up to 40%.
Labeling
The modular design for the labeling station allows to carry out the hot-melt glue and self-adhesive labeling. Each part of the system is equipped with an independent servo drive to improve transmission accuracy and labeling efficiency.
Furthermore, when the usage reaches preset parameters, the labeler will slow down without stopping for an automatic roll charge. Thanks to this feature, production is not negatively affected by downtime.
Filling & Capping
In terms of structure, the machine is well protected by a double layer explosion-proof tempered glass, fixed on a frame, and supplemented by an inclined basement. The design allows for better drainage capacity, ensuring a higher level of hygiene.
In terms of unique features, the Tech-Long solution offers a fully automatic closed and circulating CIP system to increase operational efficiency and sanitary performance further.
BLFC Monoblock Machine – Core Advantages
Compared with the traditional production line, the Tech-Long BLFC monoblock machine offers a streamlined and compact structure saving 20%-30% of the production area. Besides, the equipment requires just one instead of the three operators than its traditional counterpart. These two advantages can make manufacturers increase the production capability and optimize the allocation of personnel.
Another aspect worth mentioning is our equipment's "flexibility." The BLFC monoblock machine is compatible with various container materials and sizes. The equipment is complemented by the "MES intelligent management system," which carries out the machine's control, maintenance, and standard operation. A bright example of the technology behind the equipment is the visual inspection and ejection system. The system can detect empty bottles, cap closing effect, and ejection on unqualified products.
Ultimately, the efficiency of the whole equipment exceeds 98%, making your production operation more stable, accurate, and fast.
Tech-long Reality
Monobloc machines offer many advantages to your business; better container control, more floor space efficiency, better personnel allocation, and higher ROI.
For 23 years, Tech-Long has been developing and producing new smart packaging systems. Our offer includes filling series, labeling, and conveying equipment. Tech-Long products offer a one-stop solution for packaging to increase business production and revenue.
Contact us to know more about our monoblock machines.