National award honor! Guangzhou TECH-LONG won the "China Patent Excellence Award" +2 again!
Recently, the State Intellectual Property Office announced the list of the 24th China Patent Award. TECH-LONG's two patents- reflowable cleaning structure of filling machine and its cleaning cup as well as palletizing robot handling system and palletizing robot handling method won the China Patent Excellence Award.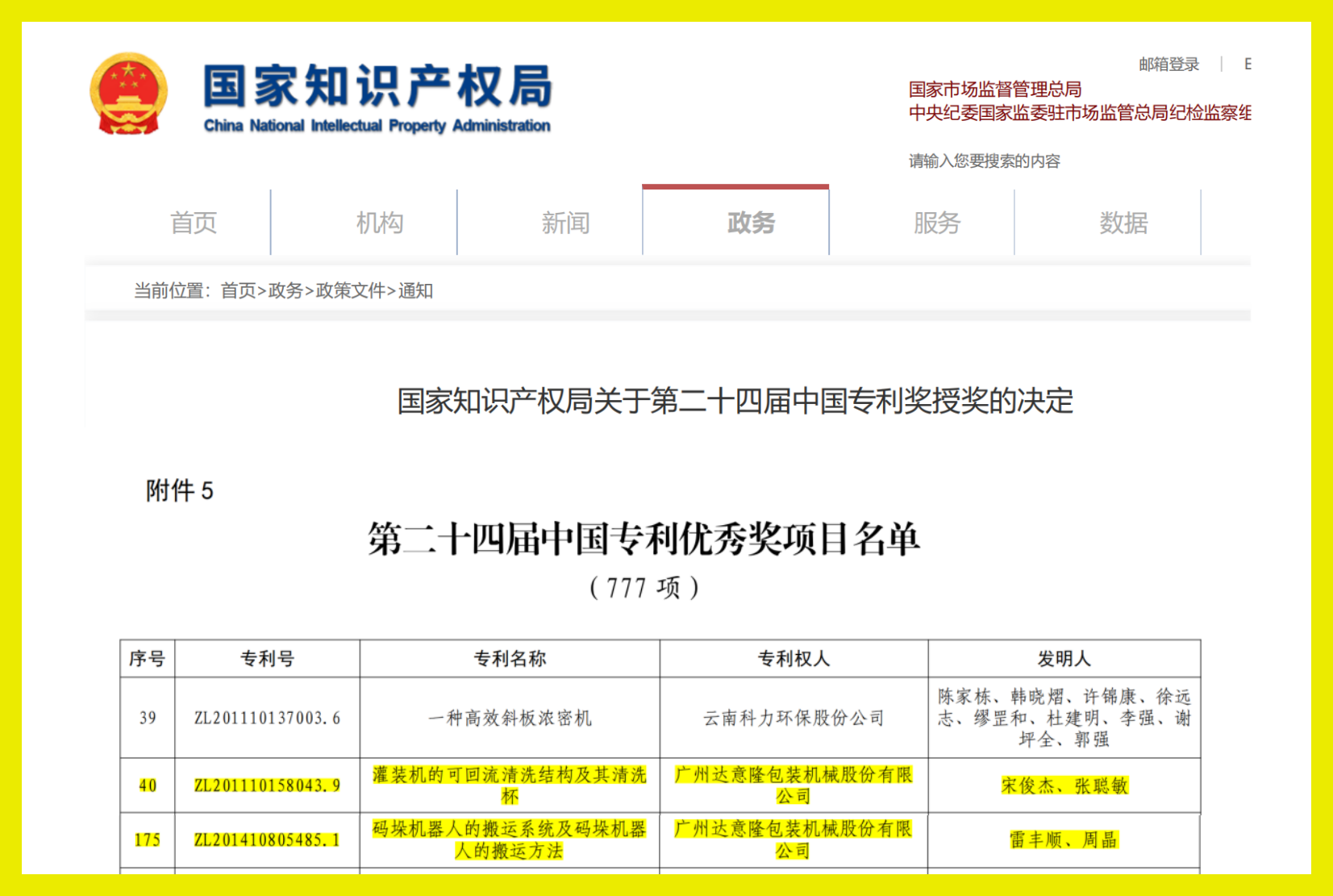 The China Patent Award was jointly established by the State Intellectual Property Office and the World Intellectual Property Organization. It is the highest honor in the domestic intellectual property community and the only national award given to authorized patents in China, which is highly recognized by the United Nations World Intellectual Property Organization (WIPO).
Up to now, Guangzhou TECH-LONG has won 10 China Patent Excellence Awards, 1 Guangdong Province Patent Gold Award, and 1 Guangdong Province Patent Excellence Award with its excellent technical strength. This award is the country's professional recognition of TECH-LONG's technology from multiple dimensions such as innovation, advancement, practicality, social benefits, and development prospects.
Award-winning patents
01 The reflowable cleaning structure of the filling machine and its cleaning cup
This innovative technology utilizes automated structural design to enable the safe and efficient cleaning of valve heads and docking grooves, significantly reducing workers' labor intensity and promoting their physical and mental well-being. Moreover, this technology enhances worker protection, improves filling machine cleanliness and hygiene, and resolves key technical challenges faced by industries reliant on manual cleaning of filling valves. Furthermore, the cost benefits of this approach make it an economical alternative to traditional manual cleaning methods, while also contributing to environmental sustainability and compliance with emerging social trends. This technology is applicable to a wide range of industries, including beverages, daily chemicals, medical, condiments, cosmetics, and wine among others.
02 Palletizing robot's handling system and palletizing robot's handling method
This patent aims to provide a robot that can integrate visual imaging positioning technology and servo control technology to achieve precise positioning while innovatively realizing the grabbing and palletizing of multiple materials. Goods packaged in various shapes can be designed according to product characteristics. The palletizing robot handling system and handling method of the fixture can improve the efficiency of palletizing operations, reduce labor intensity, solve key technical problems in the industry, and actively promote the development of artificial intelligence technology for palletizing and industrial robots in the packaging equipment industry. In line with the intelligent and flexible development of industry technology, the application is more convenient!
TECH-LONG attaches great importance to the R&D of technology and the accumulation of intellectual property rights during its development process. It focuses on technological innovation and is committed to the development and application of core technologies, with the industry's first national enterprise technology center, joint engineering center, and postdoctoral research workstation in place. As a national green factory, a green supply chain demonstration enterprise, a national service-oriented manufacturing demonstration enterprise, a national manufacturing individual champion enterprise, and a national intellectual property demonstration enterprise, TECH-LONG has applied for more than 1,400 intellectual property rights, including 730 authorized patents. At the same time, TECH-LONG actively participates in the formulation of standards, and has contributed to one international standard, 21 national standards, and 25 industry standards as a leading or participating entity.
In the future, TECH-LONG will continue to adhere to the business philosophy of "for you", insist on driving innovation-led growth through the expansion of our technology R&D capabilities. We will maintain close cooperation with "industry, academia and research institutes" to create more advantageous products with independent intellectual property rights. By accelerating the transformation of patent results, we aim to enhance the performance, quality, and efficiency of industries.