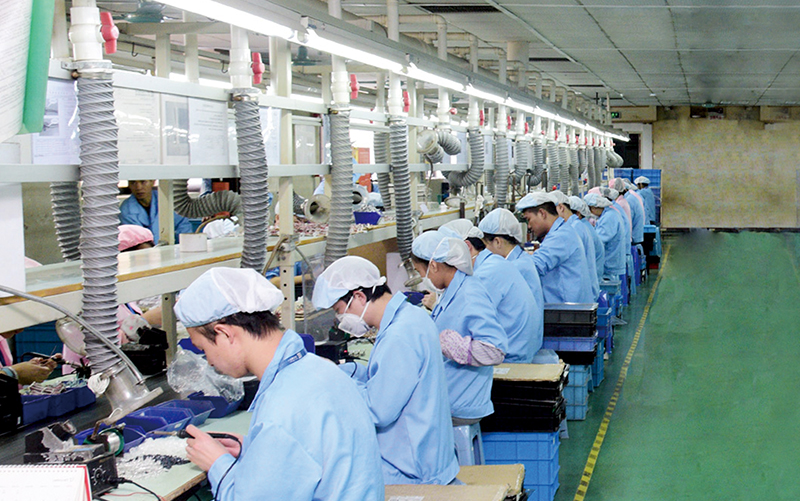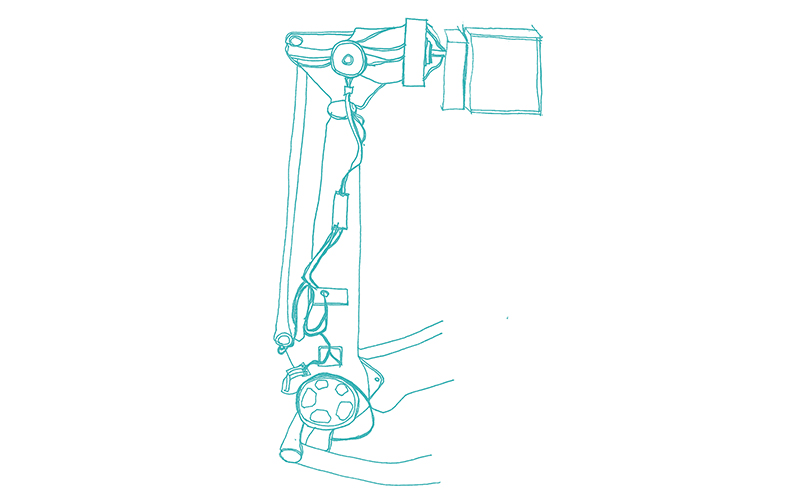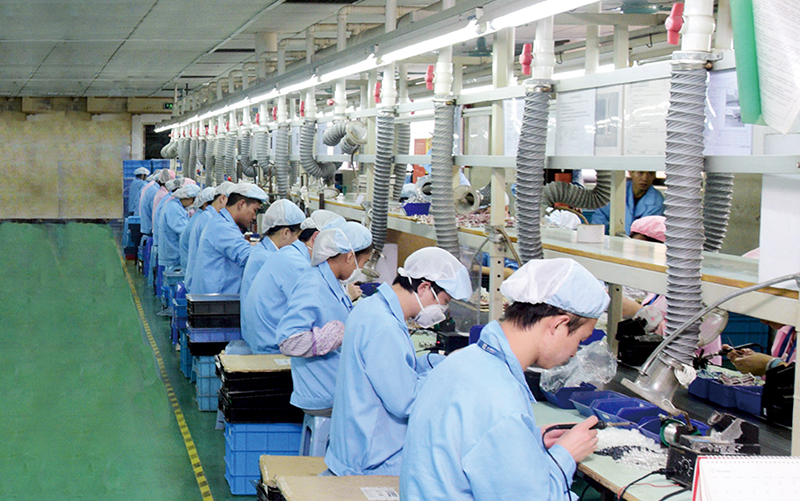 First Union Animation Technology Co., Ltd.(hereinafter referred to as the First Union), specializes in manufacturing original equipment manufacturer (OEM) plastic electronic toys. The company benefits from its favorable location in the Gonglian Industrial Park, situated in the Wanjiang District, Dongguan City, Guangdong Province, China. In order to stay ahead of production and development demands, First Union continuously invests in advanced scientific and technological methods and consistently upgrades its equipment.
The Best Time to "Replace Man with Machine"
China is responsible for approximately 80% of the world's toy production, as the demand for leisure and entertainment grows alongside improved livelihoods and income. In modern society, toys are no longer the exclusive items of children, since a growing number of young people are also becoming buyers of toys, which promises huge market potential for toys.
However, the high labor cost in China's manufacturing industry is causing difficulties in hiring desirable workers. In response, the Dongguan Municipality government introduced the "Replace Man with Machine" initiative in August 2014, which encourages enterprises to integrate industrial robots and upgrade their technology for a more efficient manufacturing process. It has become a prevailing trend for the industry to automate processes and "Replace Man with Machine."
Confronted with the huge challenge posed by steep cost increases, First Union began the construction of toy automatic packaging line in May 2016. As the largest production base of packaging equipment in Asia, Guangzhou Tech- Long Packaging Machinery Co., Ltd. boasts powerful capability of equipment integration, as evidenced by many success stories. The expertise capability of TECH-LONG has drawn the attention of First Union. Finally, TECH-LONG has beaten its competitors to win the bid with the perfect scheme from the concept design, investigation, verification to assessment, and thereby embarking on the road of cooperation with the First Union.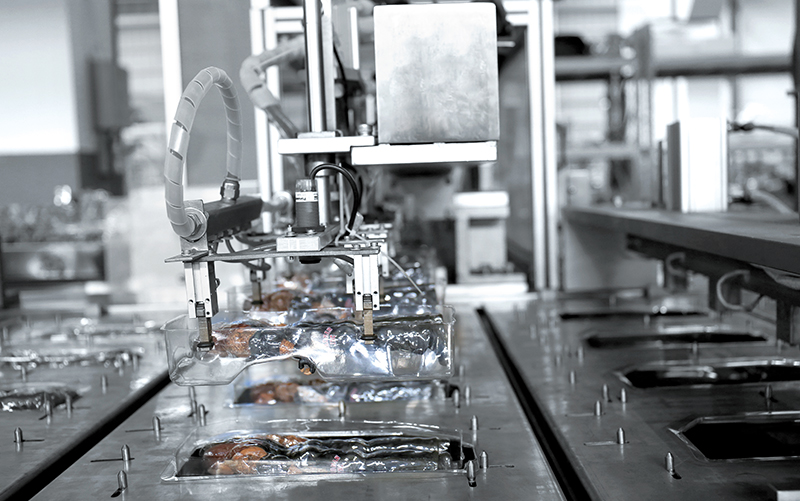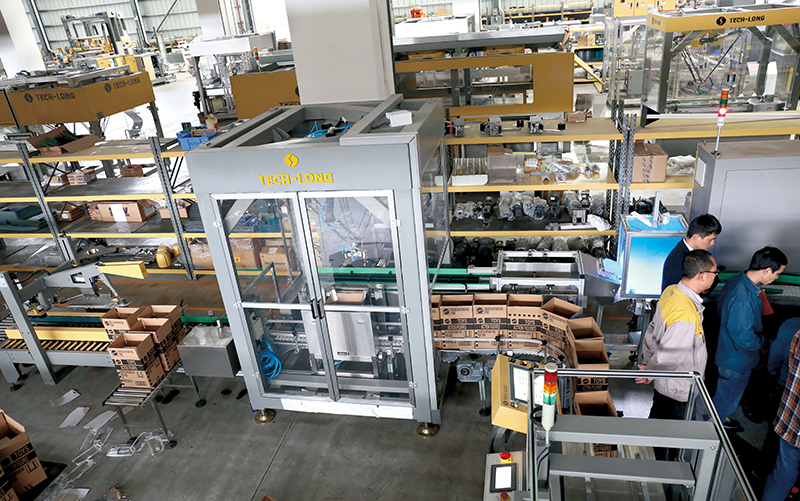 Customized, Well-rounded Offerings
Well begun is half done. At the preliminary stage of cooperation, TECH-LONG has organized its engineers to go to toy workshops to learn manufacturing technique and to analyze the technical specifications of toys and packing materials. The Deputy General Manager of First Union took the lead to build the project team and worked together with the engineers of TECH-LONG in discussion and research. We defined the whole manufacturing technique covering automatic suction molding, blister punching, automatic identification, automatic transfer of robots, automatic punching Jhook, automatic laser labeling, flip grouping, and automatic packing of parallel robots.
Despite facing numerous implementation problems due to the non-standard design of each link in the project equipment, such as the lack of uniform standards for toy packaging and packing materials, as well as the soft and easily deformable plastic bubble caps, the two partners remained undeterred. Their persistence and interest in exploration drove them to conduct extensive testing and improvements on various packing materials to achieve perfection.
Finally, in August 2017, the toy automatic packaging line was successfully launched, resulting in substantial cost reduction, enhanced quality, and improved efficiency, and thus delivering huge benefits to customers.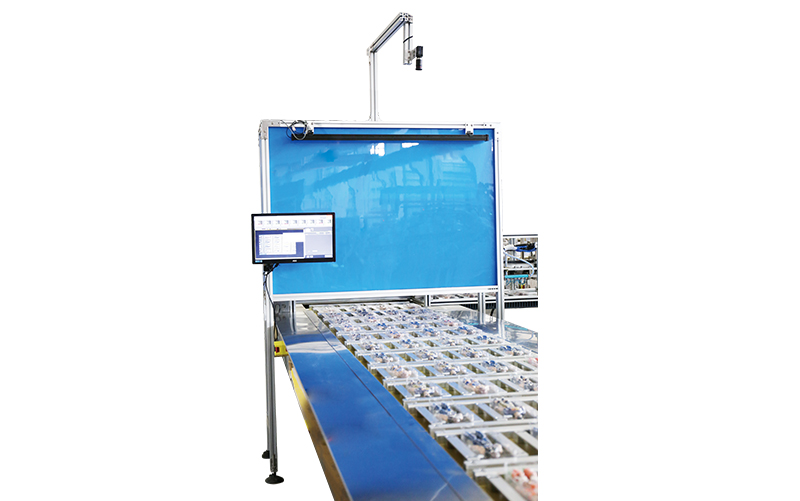 The Coexistence of Challenges and Opportunities
If we look at the bigger picture, the toy industry of China is in an era of great reform and development. With the coexistence of challenges and opportunities, we cannot stand still. Instead, we should base our efforts on the reality, look clearly the development trajectory of the times, and find our bearings. We should maintain our competitive edges, work to make ourselves stronger, and forge ahead.
TECK-LONG seeks to ensure customer satisfaction and will shoulder its due social responsibility, and surge ahead amid the tides of the time to write a new splendid chapter.