On the afternoon of August 21, 2020, TECH-LONG and Guangzhou Unicom officially signed a strategic cooperation agreement on "5G + Intelligent Manufacturing Industrial Internet Experimental Base". Kong Xiangbin, deputy general manager of Guangdong Unicom, Secretary of the Party committee and general manager of Guangzhou Unicom, Xing Yan, general manager of the strategic customer department of Guangdong Unicom, Zhou Jianming, deputy general manager of Guangzhou Unicom, Zhang Songming, chairman of TECH-LONG, and Chen Gang, vice chairman of TECH-LONG, attended the signing ceremony. Both sides will conduct extensive and in-depth cooperation in the field of 5G + Intelligent Manufacturing in the future.

Before the signing ceremony, Mr. Zhang extended a warm welcome to Mr. Kong and his colleagues and accompanied with them to visit the TECH-LONG workshop. Mr. Kong and his colleagues watched the blower-filler-capper monoblock which was assembled right now and other equipment for the production line. Mr. Kong highly praised the determination to the concept and practice of equipment manufacturing and the achievements achieved by industry-leading enterprises like TECH-LONG.

After the visit, the two sides had a full mutual conversation.
Mr Zhang briefly introduced TECH-LONG and the industry. He said the deep integration of industrial control, Internet and information technology has brought huge opportunities and challenges to the industry in recent years. As a traditional equipment manufacturing enterprise, TECH-LONG has also been trying and conduct digital transformation. In the downstream FMCG industry, with the high demands of the consumer market on personalized manufacturing, food safety, health, green environmental protection and other aspects, higher requirements are being placed on the equipment industry. It is a time to think about how to improve equipment flexibility, reduce costs, improve efficiency, and enhance customer experience through digital management with the help of new 5G technologies. At the same time, through the deep integration of automation and informatization, the establishment of digital workshops and intelligent factories for customers has become a trend. This year, the COVID-19 epidemic has spread all over the world, and the international situation is complex and changeable, which has a heavy impact on Chinese enterprises. China's equipment enterprises like TECH-LONG are facing unprecedented challenges in international market development and site support. In this case, 5G + industrial Internet technology highlights its huge advantages.
Mr Kong said that 5G technology, as a typical representative of the new generation of information technology, will bring great change to society. Industrial Internet has become the main battle field of 5G applications because of its low delay, high reliability, and massive data. China Unicom is one of the first enterprises with 5G business license, and Guangzhou Unicom is the largest local network company in the China Unicom Group. The cumulative construction of 5G sites, 5G user scale, 5G user flow and other indicators are in a leading position in China. Meanwhile, China Unicom has actively built a good ecological environment with industrial customers. Now there are 21 5G application laboratories built with various industry partners, covering automatic driving, industrial Internet, artificial intelligence, intelligent medicine, smart city, and other fields. Mr. Kong said that the cooperation with TECH-LONG was the combination of two strong alliances. Both sides would jointly build a new ecology with 5G intranet transformation and covering upstream and downstream industries, jointly promote the deep integration of 5G, Internet of things, big data, industrial Internet, artificial intelligence, and other new technologies, to make due contributions to the development of China's 5G industry. Subsequently, both sides signed a strategic contract.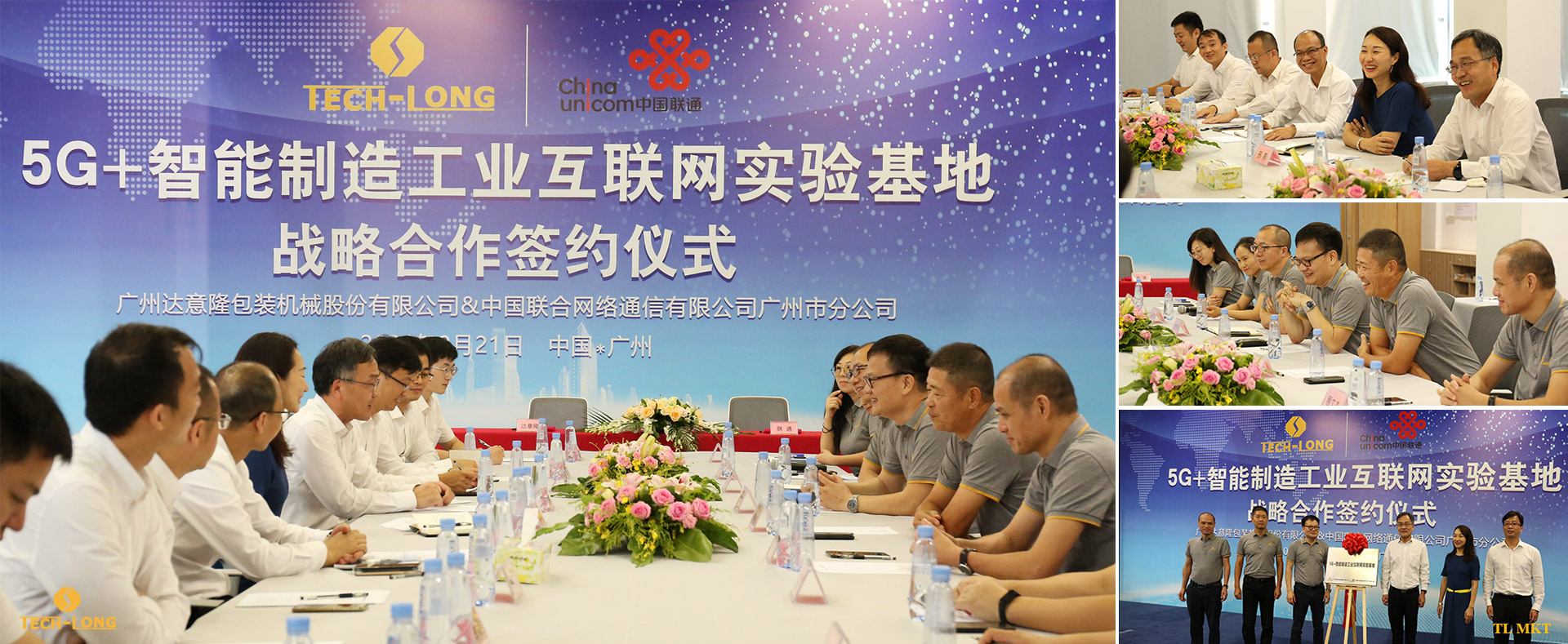 TECH-LONG will join hands with China Unicom to establish a 5G intranet transformation and innovation application verification and incubation base and explore some innovative applications based on 5G technology. For example, through VR / AR technology, remote synchronization, training and diagnosis of technical support between customer and equipment manufacturer can be realized. Virtual simulation technology, remote production line cloud display work to bring customers on-site pre-sale technology display while virtual debugging technology help to reduce design cost, shorten the debugging period and achieve rapid delivery. It will be an important starting point and opportunity for both sides to take personalized equipment manufacturing as the research object and extend it to the downstream: food, daily chemicals and other FMCG fields through the production line of TECH-LONG.