Nutritious liquid double-protein soy milk
BLACK BULL FOODS CO., LTD is the head of soybean processing enterprises in China, and also one of the units that drafted national standards of soymilk powder and industrial standards of multi-nutrition oatmeal. On the principle of modern health diet, BLACK BULL's double-protein soy milk is a new generation of acidic doubleprotein soy milk composing of soybean juice and milk and adding with fruit juice. This product contains nutriments from soybean and milk to realize perfect complementation of animal and vegetable proteins; hence upgrading the nutriments. This project is listed in Anhui "861" Action Plan, Hefei "121" Project DataBase and Anhui "Torch Plan".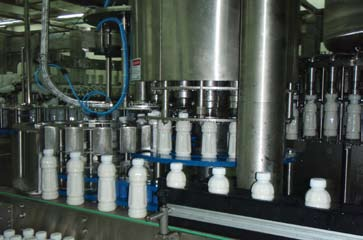 BLACK BULL selected Tech-Long's stable and mature hot filling line
On August 26th 2008, Launch ceremony of Black Bull Anhui Subsidiary's liquid double-protein soy milk project was formally held in Xin Cheng Economic Development Area, FeiDong County, HeFei.
According to Soybean Action Plan issued by the State Council and "Double-Protein" balanced nutrition strategy proposed by National Public Nutrition & Development Center, BLACK BULL took the lead in constructing liquid double-protein soy milk production base that occupied 20ha approximately. As estimated, total investment of this project is about RMB0.435 billion, of which RMB0.15 billion goes to 1st Phase. BLACK BULL selected Tech-Long's largest marketshared and most stable and mature 24000BPH hot filling line whose tail segment is carbon packing unit that is highly counterfeit-proof, environment protected and safe. The line has been put into production smoothly.