Pepsi, a leading global company in the beverage and snack food industry, has established a strong presence in the consumer goods market with operations spanning over 200 countries and regions and a workforce of 140,000 employees. The company is ranked as the 4th largest food and beverage firm worldwide. In 2002, TECH-LONG partnered with Pepsi for a renovation project, resulting in the deployment of advanced equipment and technologies that earned TECH-LONG high praise and positive feedback from Pepsi. Over the years, TECH-LONG has consistently delivered reliable production units and complete production lines, building a relationship based on trust and mutual understanding with Pepsi.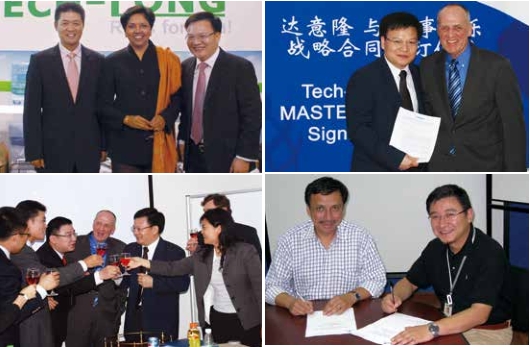 History Review
In 2002, TECH-LONG and Pepsi conducted our first cooperation.
In 2004, TECH-LONG supplied a total of 9 sets of single units to Pepsi.
In 2006, Jim Costa, the vice-president of global purchasing at Pepsi, visited TECH-LONG in Guangzhou.
In 2008, the partnership between TECH-LONG and Pepsi was in full bloom. On June 11th of the same year, a group of 6, including John Adams, the vice-president of finance from Pepsi's US headquarters, Scott Buchanan, the senior vice-president of global purchasing, and Jim Costa, signed a strategic partnership agreement at TECH-LONG's Guangzhou-based headquarters. This agreement established TECH-LONG as one of Pepsi's five global packaging equipment suppliers and ensured that TECH-LONG's equipment would be used in Pepsi factories worldwide.
In 2009, Indra K Nooyi, CEO of Pepsi visited the booth of TTECH-LONG at Drinktec2009 in person.
Currently, there are over 30 production lines and systems operating in Pepsi factories across various countries, including China, the US, Pakistan, India, Bangladesh, Vietnam, Myanmar, Mongolia, Ecuador, and Peru.